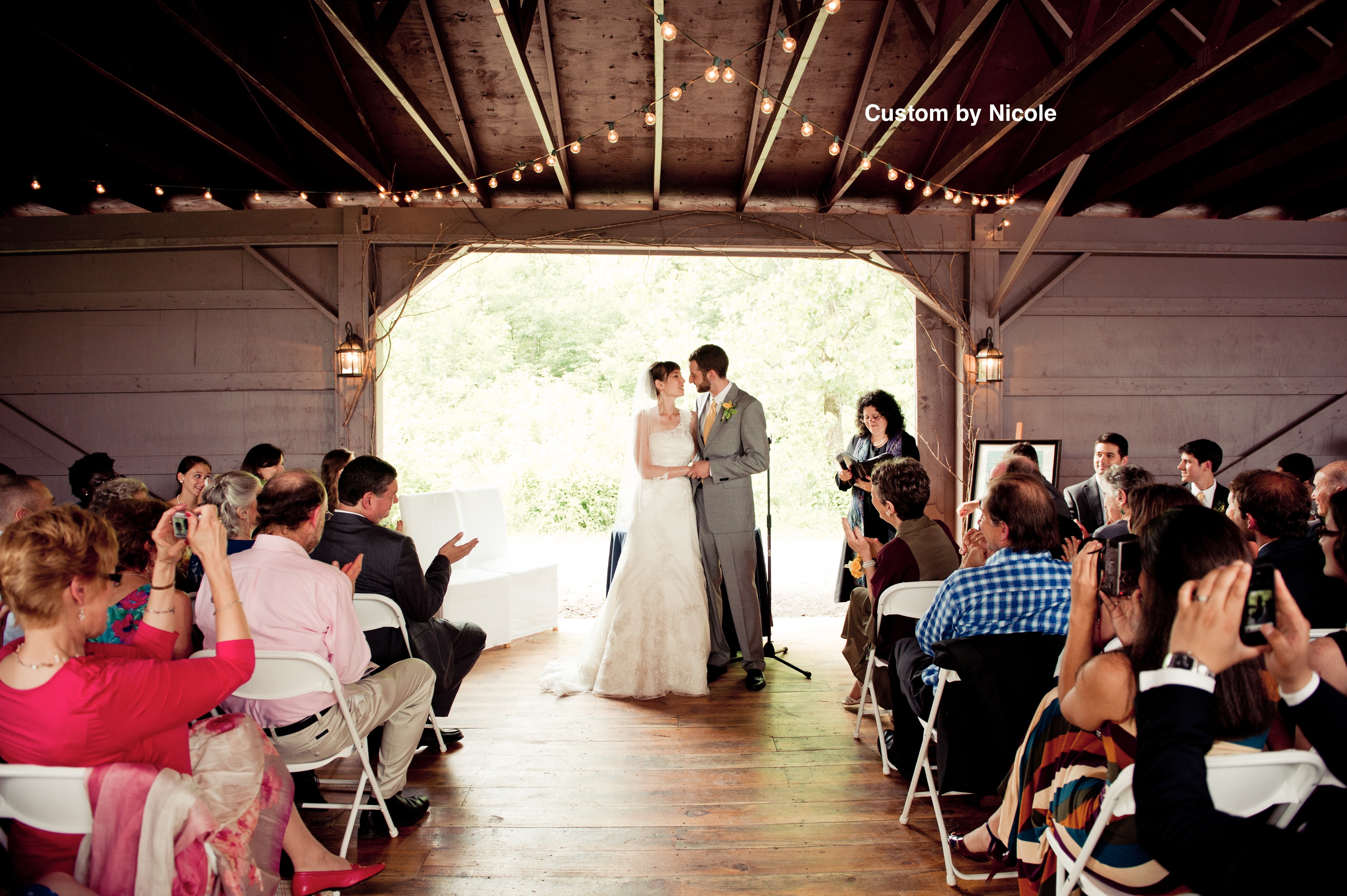 I am very much into different wedding ideas and wedding settings that are reflective of a couples personalities.  My style as a Hudson Valley DJ leads me to couples that want something different, in a wedding.  I was the wedding DJ for Rebecca and Jason at The Katterskill in Catskill, NY.  Just outside of the Hudson Valley borders.  This was right before the trend for Barn weddings became popular.
I got to work with one of my favorite photographers, Custom by Nicole, who's awesome pictures that you see here.  The wedding officiant was Rev. Jude Smith, who always puts a special touch on things!
The Katterskill is a really unique place.  There is of course a barn, where the ceremony and reception took place, adjacent to the barn was a tent set up for dinner service, catering was wonderfully provided by Bridge Creek Catering.  There is a pond house in the distance and accommodations and goats and turkey and other farm animals.  Yeah alot of things that aren't at your typical wedding venue.  I provided music for the ceremony actually really just a wedding sound system, with a little music.  They had a friend play fiddle for the main part!
The theme for music was Appalachian, Allison Krauss, bluegrass for the beginning of the night.  I did cocktail music and it was really cool with the build up from dueling banjos to Buckwheat Zydeco!  It really fit the atmosphere and all of the guests got into it!
The dancing was very much easy for me, they had a great dancing crown and these barn settings usually lead to great dancing parties, I guess something about being in a barn with music and fresh air helps to let loose.  The music moved to more traditional party stuff, alot of Motown, oldies, 80's rock.
We had a great time, I am glad that I had the opportunity to visit The Katterskill, I hope to go back soon!