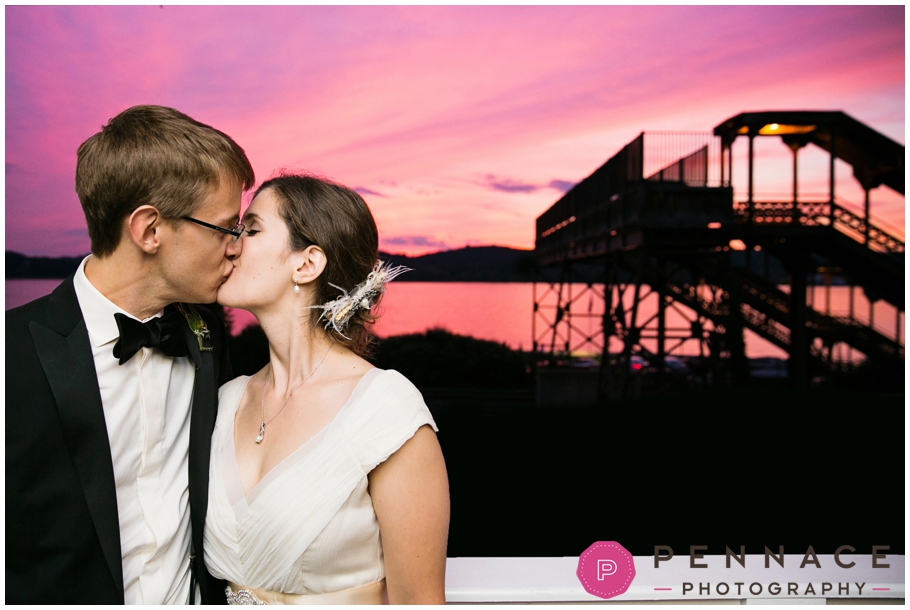 Great day for a wedding!  I had the Pleasure of being a part of Kevin and Laura' wedding at The Rhinecliff Hotel this past summer!
I had grown to know my couple over the past year of planning all of the details with them.
Very simple and fun it was going to be is what we came up with as for a style of the wedding.  They did alot of DIY stuff.  Laura did her own make up, they did their own ceremony music, the did their own choreographed first dance!
I had a great time working with Laura from Pennace Photography who let me use these photos to tell the story here!  Great photography!
Kevin and Laura's fun and giddy personalities really set a tone for the day.  They were so easy going and truly displayed a love for each other!   It is amazing ho much the energy from the bride and groom have an effect of the whole wedding day and especially the party.
I provided them with a sound system for the ceremony and they had a good friend take care of playing the music.
It was such a beautiful day all around!  On to the party!!
Being a Hudson Valley wedding DJ, I have done many weddings at The Rhinecliff before and have always enjoyed the eclectic mix at most weddings that I do there.  It is an intimate atmosphere, unique setting that brings out a very magical party!  Laura and Kevin danced all night as did their family and friends.  I played stuff from old time jazz, indie music, top 40 soul like Justin Timberlake, classic rock like Bob Seagar and Journey, Beatles, European dance music.  I was all over the place!
Great dance party lead by our bride and groom!
Vendors
Dress Designer: Saja
Suit/Tux Designer: Louis Purple
Shoe Designer: Bagdley Mischka
Jeweler: Greenwich Jewelers
Florist: Lydia Castiglia, Catskill Flower Shop
Officiant: Ethan Green (friend of Laura and Kevin's from college)
DJ: Domenic Trocino
Cake Artist: Leslie Balassone, Calico Restaurant
Invitations/Stationery: Postscript Brooklyn, at Lion in the Sun of Park Slope
Caterers: The Rhinecliff