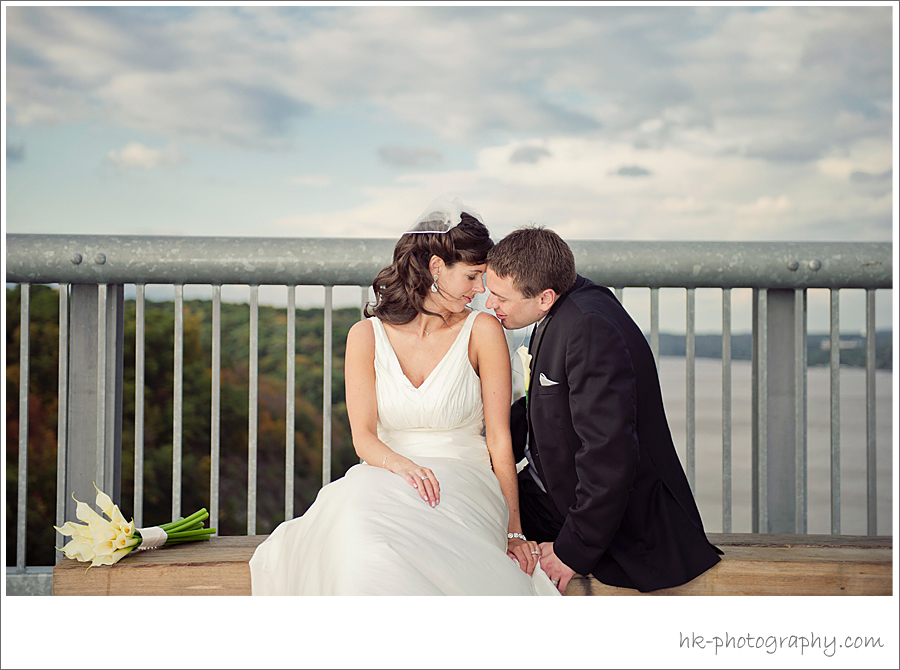 I know I have mentioned before in previous posts that October is my favorite wedding month.  This was a past wedding that I did in the October for Kristen and Matt at  The Rhinecliff Hotel.  A great couple they were and a great wedding it was!
They both live in California and have family here on the East coast and they wanted to incorporate an East and West coast feel into the wedding.
The brand new Walkway over The Hudson had just opened up and they took full advantage of photos there!
I spoke with Kristen over the phone and told her a bit about me and we clicked right away.  My style as a Hudson Valley Wedding DJ was just what they wanted for their Fall wedding.  They wanted a more laid back, unobtrusive DJ that would play great music and create an atmosphere that they were looking for.
They had their wedding Ceremony at Mount Carmel Church in downtown Poughkeepsie, NY and had their reception at The Rhinecliff Hotel.  Both sites being virtually on the Hudson River, this became a focal point in their wedding day.
Taking the photos and party up the Hudson River to The Rhinecliff the bridge and river continued to be their backdrop.
Kristen and Matt brought a very party feel the wedding right from the beginning with an introduction of themselves and first dance.
Their guests and family admired their love for each other that showed in everything that they did together!
The party was a great one, after dinner the dance floor was jammed the whole night.  Non stop party.  Everything form classic Motown, to Oldies alot of Top 40 dance music.  We had a East and West coast throwback hip hop set in there.  An eclectic wedding DJ I had to be!  Ending the night with the king of Pop, Michael Jackson!
Great Party, thanks to HK Photography for capturing such great photos to tell their story here.  Check them out to see other photos from this awesome day!