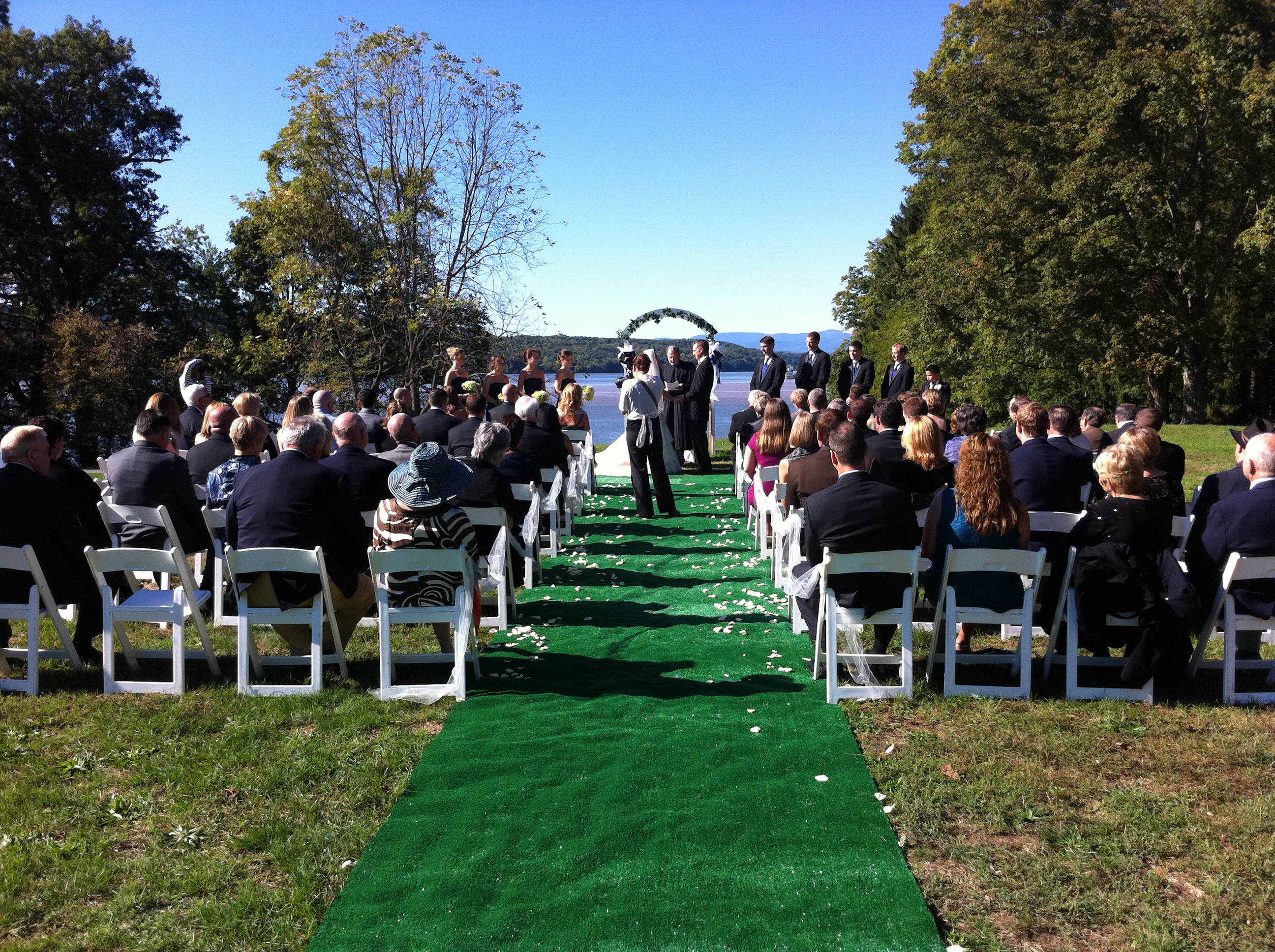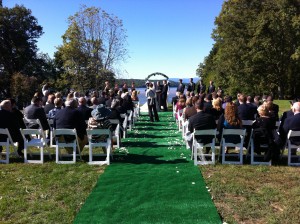 A perfect fall wedding day in The Hudson Valley began with Amanda and Ryan's wedding ceremony on The Hudson River.  Mills Mansion in Staatsburgh, NY was the location for the newlyweds to say their vows.  Amanda and Ryan had me be a part of their wedding ceremony to provide ceremony music and a sound system.  It truly was beautiful, overlooking the Hudson.  Amanda chose to walk down the isle to "Air on a G String" by Bach.  After their vows, the bride and groom walked away to "Hey Soul Sister" by Train (one of their favorites)!  After the ceremony it was off to Rolling Greens at Dutchess Golf and Country Club for the reception party!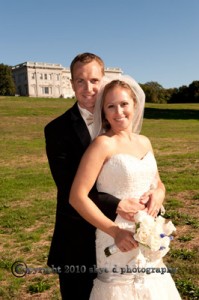 I really love working at Rolling Greens!  It is a hidden treasure if you don't know about it.  An intimate, elegant, unique setting is what Rolling Greens has to offer and Amanda and Ryan knew that from the start.
During the Cocktail hour I had set up a cocktail sound system for the guests to enjoy some cool vocal jazz music.  After the cocktail hour the wedding guests moved into the ballroom to await the grand entrance of the bride and groom.  Amanda and Ryan wanted to set the party off from the beginning and were introduced to "Tonight's gonna be a good night" by the Black eyed Peas.  It truly was a good night.   Amanda and Ryan danced together for their first dance to "Marry Me" from Train.  It was when this song first came out so not alot of people had heard it before.  Everyone thought that it was a beautiful song, a bunch of guests came up to me and asked what the song was.  Amanda and Ryan danced the entire song themselves.
The dinner and service was great as usual, lead by John David (JD) form the Bonura Hospitality team at Rolling Greens.  We partied all night.  One of the advantages for me being a Hudson Valley wedding DJ, in having a smaller intimate wedding, is that you can really get to know the guests.  I was able to really feel the music people wanted to hear.  It was a though I was one one of the guests myself!  They all felt comfortable coming up and requesting songs that they wanted to hear.  I played music from today's hit lists to oldies, swing, country.  I was all over the place with music.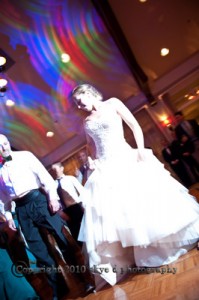 The night was a tremendous success, it flew right by a s Amanda and Ryan had put it but they had a great time!  One of the best compliments that I got was, "the music was great and it wasn't too loud, we could still hear ourselves talk".  That was nice to hear.  Being a wedding DJ, entertaining is more than just playing music ang getting people on the dance floor.  It is making sure that everyone walks away with a smile on their face!
Photos from Skye D Photography
Thanks Amanda and Ryan